Whether this is your first home with a garage, or you've decided it's time to start stocking it with the many tools you are likely to need. The first step is deciding what types of work you plan to use your tools for. Will you be working on your car or motorcycle? Are you a DIY type with plans to do a little remodeling? Maybe you're planning a big garden or have a lot of grass to mow?
Have you ever swung a hammer back in preparation to strike the nail, only to have the head go flying off in the wrong direction? Issues like this are far too common when you shortchange yourself by purchasing "cheap" tools for the garage. If there is one adage that never been truer than when buying tools for the garage, it's "you get what you pay for."
No matter why you are buying tools, the essential consideration is buying quality tools without sending your bank account into shock! The last thing you need is a screwdriver that strips the screw head and makes it impossible to remove.
However, having said this, there is no reason for you to rush out and buy the most expensive tools you can find, either. What it means is that you need to spend your money wisely by choosing the most appropriate tool for each job. Here are a few key elements to buying tools for the garage that can help guide you in the right direction.
Timing Can Make All the Difference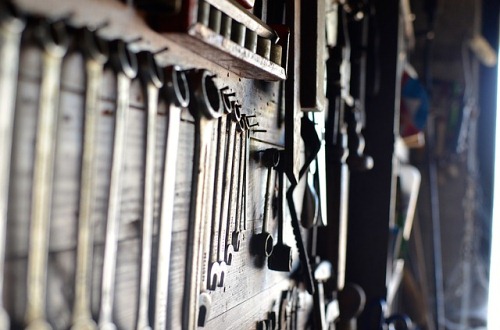 You wouldn't think there would be a good time of the year to start buying tools for the garage, but there are two particular times when the prices are as low as they are every likely to be. These are Father's Day and Christmas. Many of you may be aware of these sales, but at the same time, not aware of just how much tool retailers are willing to discount their prices to capture more sales.
During these holidays, tools are among the most popular gifts, and sales tend to skyrocket in part due to the holiday, and in part, to the discount prices. Christmas season starts in October, with discounts of 40 to 60 percent being quite common. Sales really take off on Black Friday and Cyber Monday as sellers offer even steeper discounts.
The time of year also plays a part in getting better quality tools for lower prices. For example, planning for the next lawn mowing season after summer is over can net you an upper-tier mower for the same price as you would have to pay for a lower-tier mower if you wait until spring.
Be Honest with Yourself
Everyone has that one friend whose garage is filled wall to wall with top brands like Snap-On® and MAC®. Yet have you ever noticed that their entire collection looks like it has never been used? Sure, we would all like to have a garage like this, but before you set out to buy tools for your garage, you need to think carefully and be honest with yourself.
If you are like the average "weekend warrior" and plan to use the tools you buy occasionally, the last thing you need to do is waste your money on professional-grade tools. Spending money just to have bragging rights is a waste of money. Do you really need pro-grade tools just to put the kids' new swing set together? You would be better off settling for tools made for the type of work you plan. Not only can this save you money, but it could also help you to get more for your money.
Cheap Is Definitely Not the Answer
While spending a fortune on professional-grade tools for the garage is not the best way to spend your tool budget, neither is buying the cheapest tools you can find. Trying to use inexpensive tools only to have them break or damage the item you are working on. We've all had the experience of stripping the head out on a screw because the screwdriver didn't fit right or started to twist out of shape.
Keep in mind that many tool manufacturers offer a lower-cost version of their pro-grade tools. However, if you opt for these tools, don't expect them to have the same features, performance, or in many cases, durability. The idea is that you should be prepared to strike a bargain between keeping the cost of buying tools for the garage within your budget while at the same time getting the best tools for your money.
Sticking with a Brand
One way to save money when buying tools is to stick with a single brand for specific items. For example, you need a cordless drill, so you buy one from Makita. Then you need a cordless saw, but why would you buy one from a different brand? When you stick to the same manufacturer, the batteries and chargers are typically interchangeable.
Some manufacturers offer combination kits that include multiple attachments designed for a single power unit. Ryobi, for example, provides over 50 different tools designed for use with their 18V power unit. And we're not just talking about things like drills, sanders, and saws. You may find some manufacturers also include things like weed trimmer, hedge cutters, and other lawn tools in their collections.
Do your homework and decide how many cordless tools you plan to include in your garage toolset. Then find a recommended brand such as Ryobi, DeWalt, or Makita that offers the tools you want and take the same power unit. With a "rapid charger" and several of the same batteries, you are saving money and, in the end, time and effort.
Nothing is worse than spending half your project time trying to find several different batteries to fit the different brands of tools you chose to buy. Many cordless tool manufacturers also offer what is known as "bare" tools. With these, you save money by not having to pay for yet another battery you don't really need. Not only this, but half your workbench won't end up covered in multiple chargers and extra batteries.
Brand Loyalty
Much like today's major airlines, many tool manufacturers have their own customer loyalty program in which you earn points with each purchase. In most cases, it doesn't matter if you buy their tools in a brick and mortar store like Lowe's or online at Amazon. The points are a reward for making the purchase and can be used towards future purchases such as T-shirts, grills, coolers, camping gear, and more.
Many of these companies also have exclusive sales and discounts when you sign up for their emails and newsletters. In some instances, you might even have access to tools that have not been offered to the public as a way to "test drive" them. Through this same process, special offers and limited access sales are offered along with contests with new tools as prizes.
Base Your Purchases on the Type of Work You Have Planned
While we briefly covered the idea of buying tools to match the projects you have in mind and the frequency with which you plan to use them. For the occasional DIY project, a "good" quality brand of tool should more than suffice. However, if your hobbies are woodworking or auto restoration, you may want to consider stepping up your game a little.
In this instance, you would be better off investing your money in professional-grade tools as they are built to take heavy usage without breaking. In the end, you need to consider your budget, how you plan to use the tools, and if you are buying the tools for a single project or require them to last a lifetime.
The Bottom Line
The bottom line when it comes to buying tools for the garage is that you need to spend plenty of time doing your homework. There are dozens of tool manufacturers out there offering every level of quality from basic disposable single-use all the way up to the finest professional grade. Even with this, each brand has its own reputation for quality and longevity. The best place to start your research is online. Here you can find reviews for just about any brand or tool you are likely to ever need.
One last thought keep in mind that just because you don't recognize a particular brand name doesn't mean it's not a good tool. This is where spending a little extra time doing your research before buying tools for the garage is so important. Hopefully, this information with help you make the right decision when the time comes to start buying tools for the garage. Good luck!
Every Single Tool You Need To Start Working On Cars! *Full List*